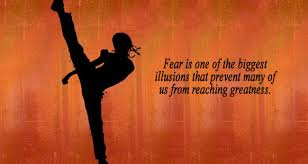 Let's face it. We've all experienced fear before. Those nerve-wracking moments leading up to something BIG. Your heart is racing, your palms and/or underarms start to perspire, and your knees may even begin to feel weak or start knocking. Definitely NOT one of the greatest feelings out there.

But here's the great news…
 
YOU CAN ELIMINATE YOUR FEAR ONCE AND FOR ALL
 
Perhaps you've written a book, launched a business, or landed an interview for your dream job; and now you have to sell someone on that book, biz or why you're the best candidate for the job. Or…maybe you're going to be having a baby in the near future (okay, well that's me – ha!) All familiar yet fear inducing activities right? Well here's the great news…they don't have to be, and here's how you can make that your truth.