It's Really Happening! Podcast Launch Next Monday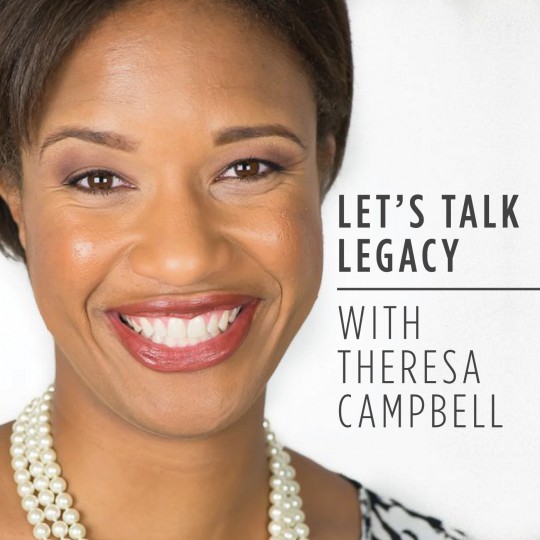 Last Saturday, at the annual Florida Bloggers Conference, I had the privilege of hearing Pat Williams share his 10 foundational principles to living a fulfilling life. While all 10 of the principles resonated with me, his third principle: "Be specific in goal setting," was incredibly timely and hit home on a personal level. With the launch of the "Let's Talk Legacy" podcast (one of my short-term goals that I am sooooo incredibly excited about) debuting on Monday, September 30th — I figured it was time to go deep and let you in behind the curtain of Her Life, Her Legacy and well…me.
Theresa: (takes a deep breath and then exhales)
You ready?
Last December I set a big bold goal for myself for 2013. You know…the kind of goal that scares you a bit more than it excites you, but you go after it anyway. Determined to live a life of passion and purpose while doing work that matters, I embarked upon my personal hero's journey. When I declared my goal, I did as the experts tell you to do and I put it in writing. In fact, my goal, "To become a full-time (paid) transformational leader (author, speaker and coach) by December 31st 2013," is still written in dry-erase marker on the full-length mirror affixed to my bathroom door. This simple sentence serves as a continual reminder of what I am working diligently, patiently and persistently toward this year.
WARNING: this post is NOT about where I am in the process of realizing my big bold goal for 2013, this post is about you. All about you.
Did you set a goal or for 2013? Perhaps a New Year's Resolution? What are you trying to accomplish this year and where are you in the process? Are you crushing it? Or did you fall off the wagon?
Are you living your legacy?
Lots of questions – I know. And probably quite irritating and/or overwhelming; especially, if you're feeling lost in life, unfulfilled at work, or unsure of what you really want. If you are, do not worry, I can help you with that. I've been there before, and that's a dark but necessary place many of us have to visit in order to find our own individual purpose and path.
But there's great news!
It's possible.
It's possible for you to be, do, and have whatever you can dream. Seriously…it is.
How do I know it's possible? Because I've seen my dreams (specific goals) begin to unfold before my eyes on what feels like a daily basis. But I didn't create the Her Life, Her legacy community to just share my journey. This is much bigger than that. Like I said…this is about you. Having a place where you can cast your dreams out into the universe and then have all of the support and resources you need to inspire you to take action and help you live your legacy.
This is about your life.
This is about your legacy.
LET'S TALK LEGACY PODCAST – IT'S REALLY HAPPENING!
I told you it's possible that you can live your dream; and not only have I experienced this, but so have each of the fantastic guests I'm interviewing for the "Let's Talk Legacy" podcast. Incredible women like, Pam Slim, Vasavi Kumar, Lauryn Ballesteros, Dawn Delavallade and Natalie Currie just to name a few. I'm telling you. These women are amazing. In fact, all of the Let's Talk Legacy guests are remarkable women who are living on purpose, and doing work that matters. They have each carved out 30 minutes of their time: to inspire women around the world to take ACTION towards living a life of passion and purpose — and to ultimately leave their legacy.
Oh, you want some of that action?
Then sign up here to be notified when the podcast is available for download, andBONUS, if you share this post via social media (and register to be notified that the podcast is available here) I will send you a sneak preview (yup! a full episode) of the "Let's Talk Legacy" podcast on Friday, September 27th, as well as all 10 of Pat William's foundational principles for living an amazing and fulfilling life.
Are you ready to live your legacy?
Let's do this!
T